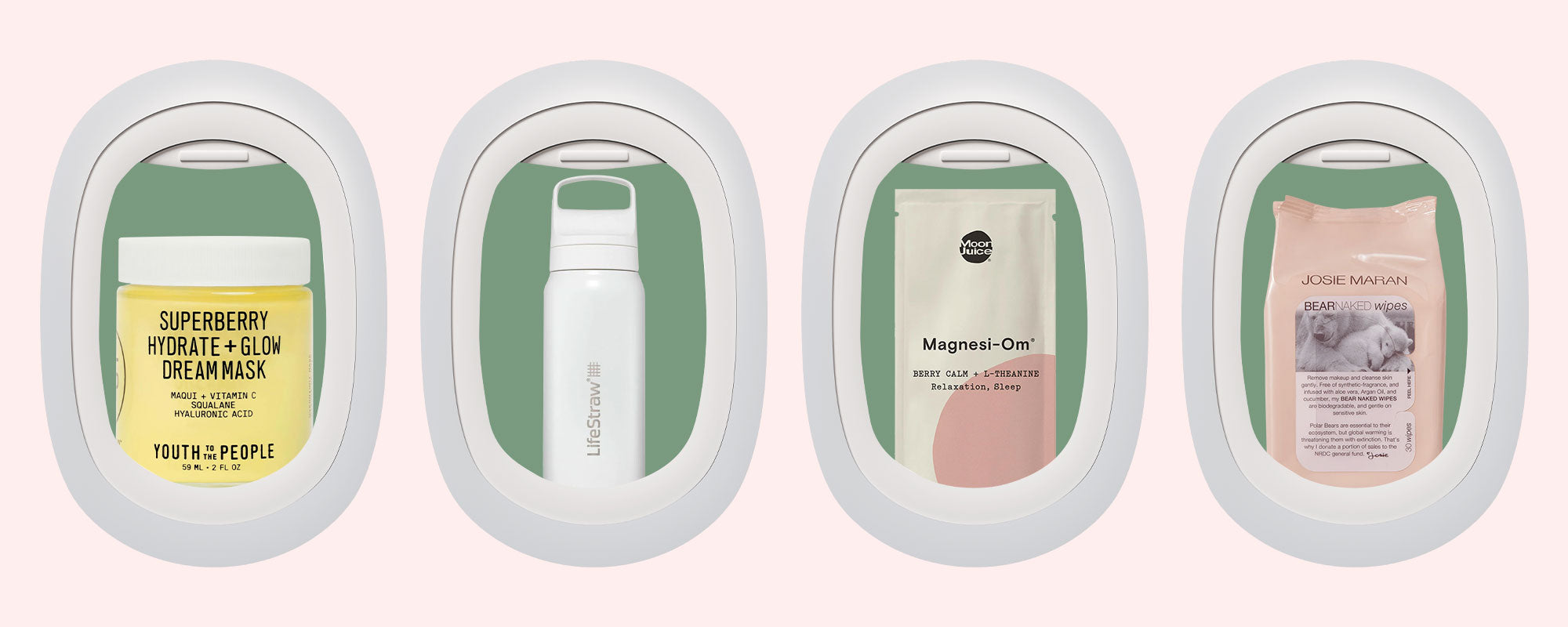 #WOOSHAPPROVED: THE BEST BEAUTY TRAVEL ESSENTIALS FOR THE HOLIDAYS
How is it nearly the holidays already? Was it not 4th July, like, a minute ago? As the old saying goes, time flies when you're having fun. You know what else flies? You. Especially during the holidays when airports are chock full of folks traveling home to hang out with loved ones for the festive season.
Here's the thing about flying. Yeh, it's great for getting you swiftly from a to b, but eesh, it is not easy on your appearance. Whether you brave the red eye or hop on a plane straight from work in a bid to make your bestie's cheese and wine evening, all that dry air can sure take it out of you.
Wanna ensure you arrive at your holiday destination fresh-faced and gorgeously groomed? Then buckle up and check out these travel beauty must-haves.
We don't subscribe to facial cleansing wipes as a rule, but for traveling they're invaluable. If you care about your skin (and the world), however, you've gotta look at what you're buying super carefully. Wipes can be packed with chemicals, and rarely are they recyclable or biodegradable which means they end up in landfills where they can take up to 100 years to decompose. Ouch.
Not so with these awesome Josie Maran Bear Naked Wipes. Packed with natural ingredients, these babies are cruelty-free, guilt-free, great for your skin and perfect for a swift, in-flight facial.
Removing makeup and cleaning your skin is all well and good but you can't leave your skin in a state of post-cleansing limbo for the next four hours. All that dry air will kill its mojo. Instead, slather on Youth To The People Superberry Hydrate + Glow Dream Mask, an overnight facial mask that's packed with 100 percent vegan ingredients to help hydrate, brighten, plump and protect your skin for as long as you allow it. Long-haul across the country? Perfect. Quick hop to the next state? Equally as fabulous.
Let's get one thing straight: drinking more water doesn't give you better skin. There, we said it. However, dehydration will take its toll on your complexion, screwing up your circulation and starving your skin of essential nutrients. Don't fancy arriving at mom's house with sad skin? Then you're going to need to sup up. And no, bloody Marys don't count.
Cabin air is extremely dry and generally quite cool so it's recommended to drink at least 6 oz of water for every hour you're on a plane. Easy. Invest in this LifeStraw Go Series Stainless Steel Water Filter Bottle and you've nailed three hours already. And if you're traveling further? NP, the canny filter system means you can even fill it up from the bathroom.
Beauty sleep is exactly that – priceless for the health of your skin. However, catching some valuable shut-eye on a flight is not always easy when you're cramped up against a stranger with questionable hygiene. So why not make life easier and take your own pillow, enveloped in a Kitsch Satin Pillowcase? Gentle on your hair, smooth on your skin and like a cooling hug around your entire head, it's a dream. Literally.
Speaking of zzzs, we recently discovered Moon Juice Sleepy Magnesi-Om which is incredible for nudging you to sleep without making you feel ten times worse when you wake up. The secret lies in its special microdose of plant-based Phytomelatonin which encourages your body to fall asleep without overloading your body.
Just add a sleep mask...
About that… the Slip Pure Silk Sleep Mask is exactly what the sleep doctor ordered. Kind to your skin, this super soft eye mask comes in so many designs it's hard to choose which is your favorite flava for the best, most stylishly uninterrupted sleep. We're currently digging Sadie – this pink leopard print beauty that'll have your fellow travelers green with envy.
No matter your beauty regime, we bet you own at least three lip balms #arewerightorareweright. And it doesn't take a rocket scientist to figure out why lip balm is a universal favorite. The skin on your lips is thin, sensitive and contains few oil-producing glands to keep it naturally moisturized and soft. Penny. Drops. This, coupled with plane air that sucks every last inch of life from your lips, makes balming on a flight as essential as bagging a window seat.
Say 'ciao' to chapped lips and get into the festive spirit at the same time with La Neige Holiday Lip Sleeping Mask in Caramel Apple. De-lish.
Yawnsome rules about the number and size of beauty products you can take on a flight mean you need to be sneaky. And that's why this Eco Roots Lotion Bar is right up our alley. For starters it's not liquid, which means you don't have to shoe-horn it into a tiny Ziploc, and for seconds you can apply it anywhere for instant hydration and pure, unadulterated moisture. What's more, when you're finished you can keep the tin and simply order a refill.
And you know how much we love refillable stuff ;)
Hair! You can't forget your hair. Flying can make your hair way greasier than normal thanks to your scalp producing more oil to compensate for all that parched air. Dry shampoo is the obvious go-to for mopping up a slick scalp but, again, there's that whole 3-1-1 liquid rule to deal with. Sigh. The good news is Billie Floof Dry Shampoo laughs in the face of oily hair AND TSA carry-on rules by being a non-aerosol dry shampoo powder. Ha. It also gains bonus points for being vegan and cruelty-free.
OK, your hair's on-point, your skin is fully moisturized and you've even grabbed an hour or so of sleep. So, what's the final icing on the cake? Well, it's got to be an on-the-go makeup kit that fits neatly into your carry-on and contains everything you need to hit some serious just-got-off-a-plane-and-looked-like-this vibes.
Since you asked, we have just the thing to take care of business. Say hello to The Jetsetter Bundle, here to beautify your complexion, define your eyes, highlight your best bits and hide your not-so-best bits. It even comes with its own mirror and brushes so you don't have to leave the comfort of your own seat.
And now, you are ready for landing. Happy holidays, folks!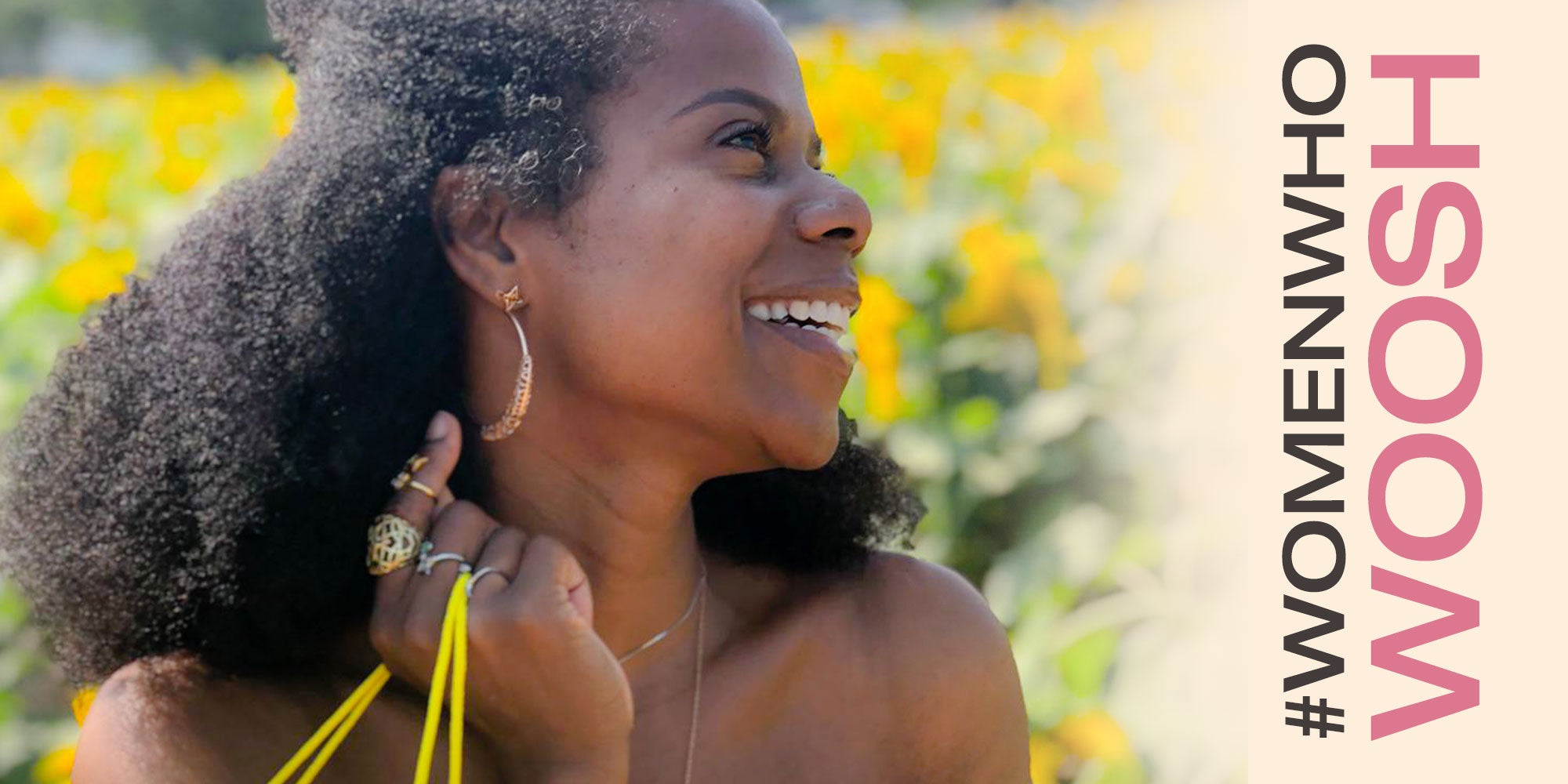 #WomenWhoWoosh
We recently met and got to know an extraordinary woman, artist, and all-around ray of sunshine, Lia Key. Her line of designer, stainless steel jewelry with meaning, Valencia Key, is all about helpi...
Read more