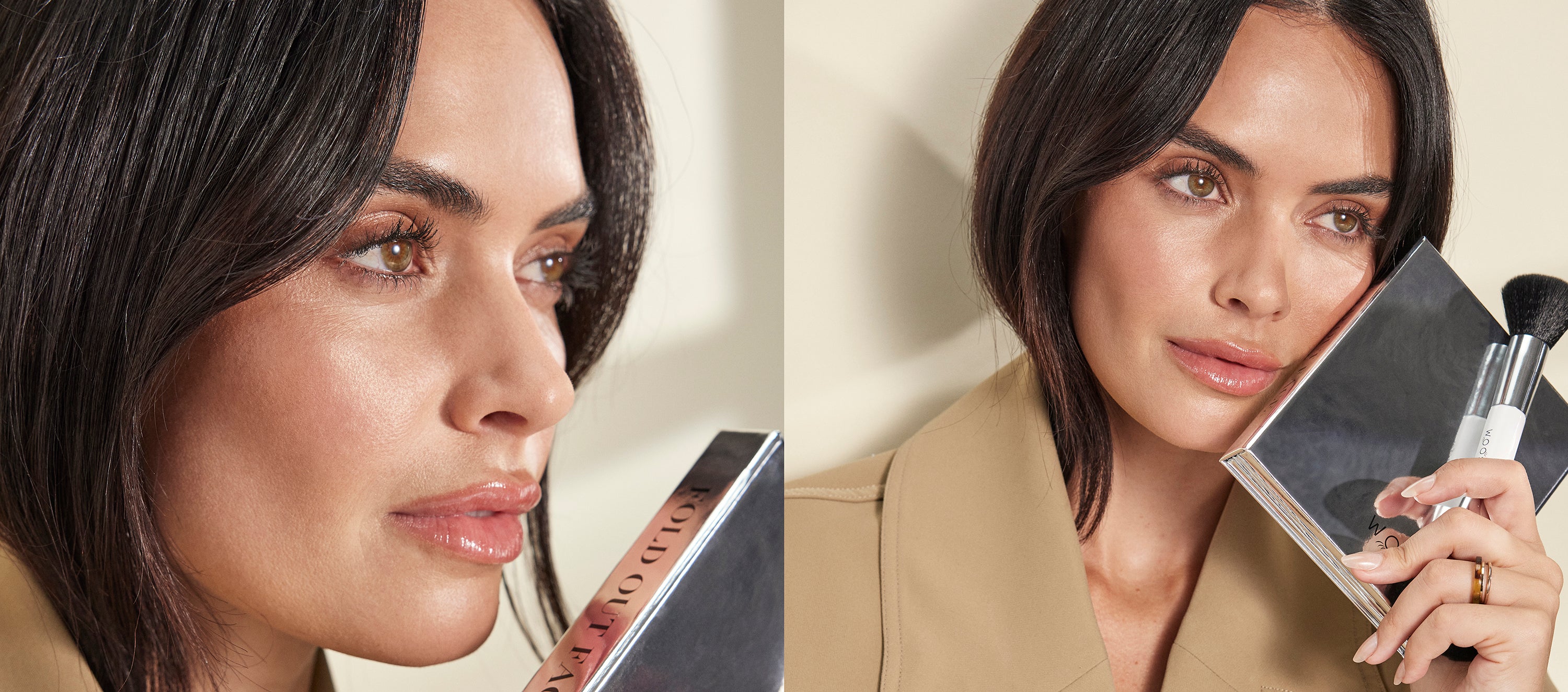 DRAMA MAKEUP… MINUS THE DRAMA!
If ever there was a time for dramatic makeup, the holiday season is it. But with a million other things on your plate right now, the last thing you need is complicated makeup that takes forever… and requires way too much patience. Thankfully, we're here to help with that.
Holiday makeup often calls for a little extra je ne sais quoi. A bit of contouring here… a touch of shimmer there… and, of course, the ultimate glam-getting makeup – smokey eyes. But with all the other holiday hassles going on (because, let's face it, they're inevitable!) nobody wants the added drama of tricky, time-consuming makeup – especially when you've got a grand total of 15 minutes to get ready to party.
The good news is, where there's a will, there's a way. And thanks to your awesome friends at Woosh (oh hi!), gorgeous party makeup with little effort and all the drama is perfectly doable. Heck, it can even be enjoyable. Here's how…
1. Do Your Prep Work
Sure, it's tempting to apply your evening makeup on top of your day look, but this isn't great for your skin (two words: blocked pores). Your makeup is also more likely to slip off halfway through the night thanks to all the oils and sweat that have built up on your skin throughout the day. Not cool.
A clean slate is a much better idea. So, if you can bear the extra two minutes, cleanse and moisturize your face first then apply Pre Face Primer to smooth and hydrate your skin, and give your foundation the best start in life. Primers are super important for heavier makeup looks because they help it stay put for longer. Apply it all over your skin with clean hands then allow it to absorb for a minute before moving on. A little patience is important to avoid pilling.
2. Let Your Eyes Do The Talking
We can't think of a better party look than smokey eyes. Can you? Answers on a postcard, please.
Creating that elusive, perfect smoke used to be the stuff of dreams, but we like to think we've made it super easy with The Smokeshow which contains everything you need for a simple, yet dramatic smokey eye look.
First up you have the perfect, creamy concealer. Concealing before you apply eyeshadow is really important as this will help keep your makeup exactly where you want it, aka on your eyes, not somewhere around chin level! It'll also help disguise partied-out eye bags and blur out imperfections like tiny veins or redness on your eyelids. Genius.
Smooth concealer all around your eyes first, blending carefully, and don't worry too much if you get any on your lashes, mascara will deal with that later.
Then it's time for the main event – eyeshadow. Our Fold Out Eyes – Smokey contains two mineral-based eye colors to beautifully shade and define your eyes. Oh, and did we mention The Smokeshow comes with our award-winning Corner Brush which does all the hard work for you? It's a smokey eye miracle!
To create your dramatic, smokey eyes in just a couple of minutes, grab the v-shaped end of your brush and dip it into the brown eyeshadow. Then stamp it along the upper, outer corner of your eyelids and blend inwards over the crease of your eyes and along the lower half of your lids. Just remember, you're the boss, so you can build up the color as much or as little as you like.
Once you're happy with how it's going, line your eyes with the black shadow (using the other end of your brush), finish with Like Magic Mascara and you're pretty much done. You can even mop up any mistakes with your concealer, or – if you don't want to tempt fate, try our Even Eye Stencils to nip any fallout in the bud and help guide the shape and precision of your look.
(PS: For further help on mastering a smokey eye, check out our video right here.)
3. Don't Be Scared To Contour
Even if you're not a contouring whizz on the reg, when you want to create a little more drama, a bit of subtle contouring is everything. It adds definition in all the right places, drawing attention to your best bits and helping to sculpt and lift your face exactly where you need it. Just ask the Kardashians!
Sure, contouring can feel a bit overwhelming but it's actually nothing to be scared of. You just need to remember to apply your lighter powder over the high plains of your face, where you want to draw attention and attract more light. On the tops of your cheekbones, down the bridge of your nose, in the center of your chin and along your forehead are the best places to highlight. Then, when it comes to applying your darker color, this should go in the places you want to sculpt and create shadow like under your cheekbones and around your jawline. The key, however, is to be subtle. Blend, blend and BLEND. And when you think you've blended enough? Blend again!
Once you've finished, apply foundation powder over the top to soften lines, then dust a little blusher over the apples of your cheeks to add warmth and color. You'll find everything you need in the Fold Out Face Refillable Palette. We aim to please!
4. Add Some Shimmer
The trick with shimmer is to reflect light and brighten up your skin... but without looking like you've dipped your face in a vat of glitter. This means go gently. You can always build as you go, but removing sparkle once it's there? Not so easy.
Sweep a little over your cheekbones, dot some in the inner corners of your eyes and brush it along your browbones to help you look wide-awake and ready for action – even if, honestly, you're feeling totally beat.
5. Plump Up Your Pout
One of our favorite party looks is smokey eyes and nude, glossy lips. Lipgloss suits everyone, plumps up your pout, plus it takes zero skill to apply which is great news all round don'tcha think?
To up your lip game, a great trick is to first apply a smidge of dark contour powder into the crease underneath your lips. This throws some shade (no, not that kind!) to your bottom lip which adds a little pouty edge. Then dot some shimmer powder into the cupid's bow to draw attention to your top lip, and finish with your favorite Spin-On Lip Gloss. Easy or what?