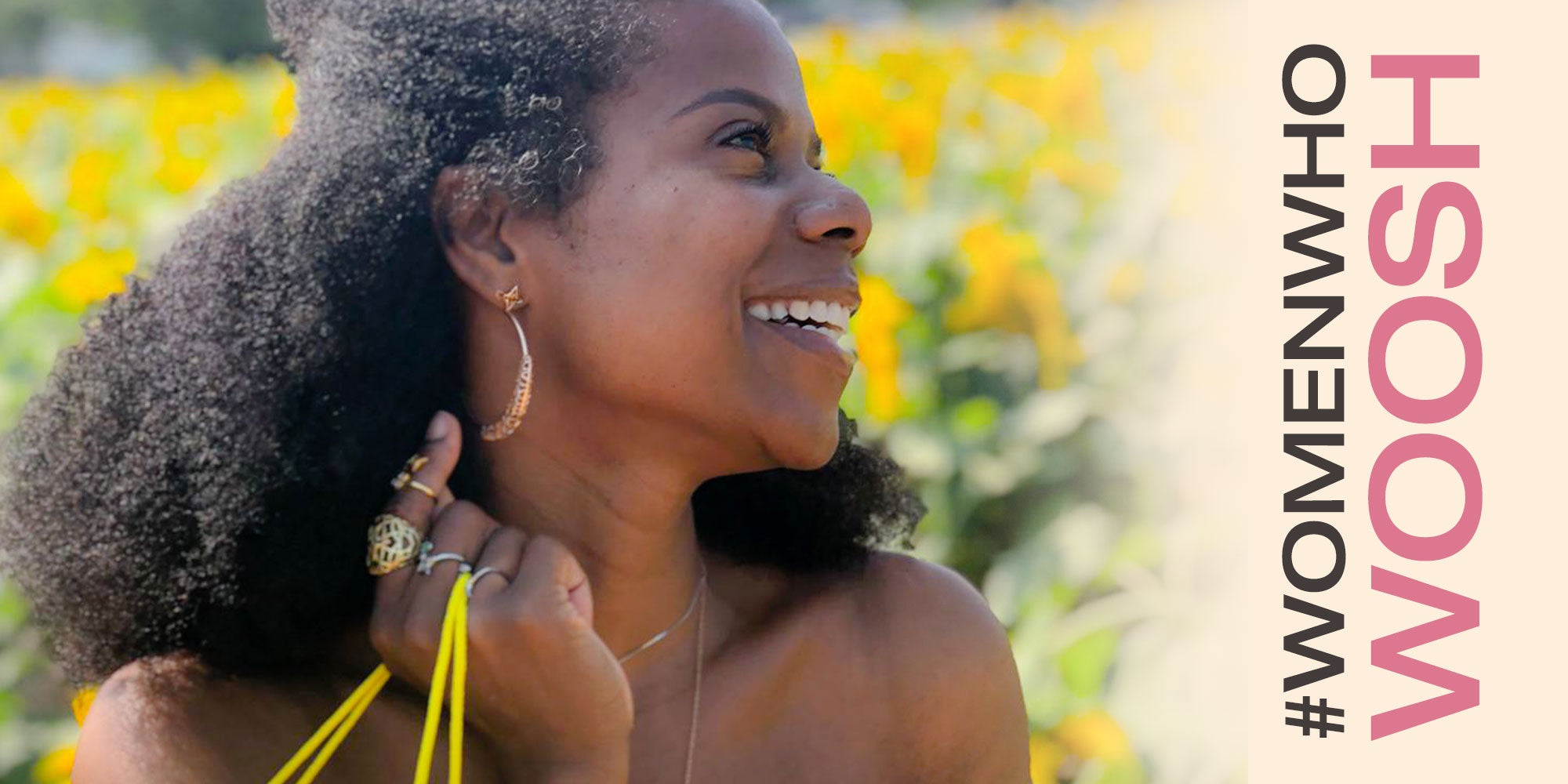 #WomenWhoWoosh: Lia Key
We recently met and got to know an extraordinary woman, artist, and all-around ray of sunshine, Lia Key. Her line of designer, stainless steel jewelry with meaning, Valencia Key, is all about helping people unlock their inner strength and joy. Her pieces are beautiful and so is her soul. We're proud to have her as a friend and Woman Who Wooshes. Read on to learn about how she got her start and what makes all of her pieces so special. 
How did you get into the jewelry business? 
When I was a little girl my mother gave me a small sparkly pair of earrings. She told me to "always wear my earrings every day so I can shine my light." Sometimes life get hard, and it's difficult to find that light, but the earrings were a wearable reminder that the light is always within me and all I have to do is choose it. My mother passed shortly after that, and that started my journey of creating jewelry that would be symbolic reminders of her and of inner strength.
Do you have a process for each piece of Valencia Key jewelry you create? ­­Can you talk us through it?
Yes, each piece that I create, I close my eyes and visualize what symbols and/or words help inspire and unlock light, bravery, and courage, and I start to hand sketch whatever I visualize. I create an intention behind every symbol.
Valencia Key screams the color 'yellow' so it's clearly your favorite color. Can you tell us why it's such a huge part of your brand story?
Yellow is everything to me. It is a huge part of my brand story because the color is very powerful and evokes emotion. Yellow is literally the energy that the VALENCIA KEY brand shines in the world. Yellow brings positive feelings and emotions, joy, happiness, hope, confidence, curiosity, and it unlocks learning. This is everything VALENCIA KEY wants to radiate in the world.
Coco Chanel famously said you should always remove one item of jewelry before leaving the house. Do you have any rules or tips when it comes to choosing and wearing jewelry and accessories?
My personal key for jewelry and accessories is to make sure you wear pieces that create a positive energy, that inspire you, and that are symbolic reminders of your greatness and your destiny. I believe you should wear as many pieces like this as possible. It's never too much!
Your brand, your website and your social media pages are literally filled with joy. How do you maintain such a positive outlook on life? Any tips for the rest of us?!
Joy is a choice. And jewelry is the key that I love to share in order to help people consistently unlock joy in their lives. If you're intentional throughout your day, asking how you can be joy, share joy, shine joy, receive joy, and even how you can find joy in rough, challenging times that you can learn from... you can bring more of it into your life. Try to surround yourself with people and tangible things that ignite joy.
Just like jewelry, makeup is a way to portray your personality and express your outlook on life. You always look FABULOUS, what's your makeup routine and do you have a favorite Woosh Beauty product? 
I love to keep my make up routine simple and easy. I don't wear a lot of eyeshadow so skin and lashes are very important to me. My favorite Woosh beauty product is the Fold Out Face palette. It is perfect for travel, and effortless quick to create a fresh, flawless face.
OK, desert island moment. What's the one piece of jewelry and one makeup item you couldn't live without and why?
Because my mother told me to always wear my earrings, my desert island jewelry piece would be earrings. Earrings bring sparkling joy to your face, which makes you smile, which changes the whole entire energy of how you feel. My desert island make up product is mascara. I love the power of the eyes. I feel that the eyes are the windows to the soul and mascara beautifully frames the windows to your soul.