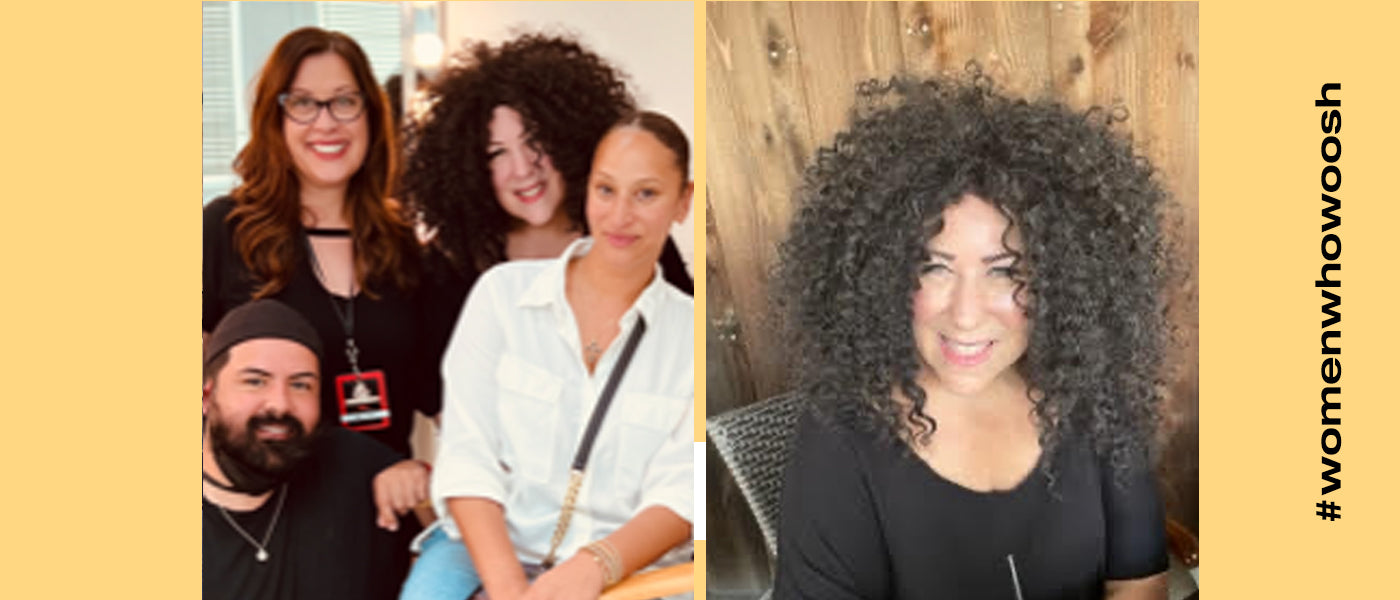 #WomenWhoWoosh: Wendi San George
With decades of makeup experience and a resume that includes many of Hollywood's biggest names, Wendi San George knows beauty. So we're thrilled to be able to include her as a Woman Who Wooshes! Read on to learn more about this fascinating force of nature....
Tell us a bit about yourself, where are you from? Where do you live now? When did you develop your love of makeup and beauty?
I was Born in the Bronx and grew up in the OC. I Live in Santa Clarita where I moved from NoHo when I had my first Son. In 1974, my friends invited me to dance at a taping of American Bandstand at ABC studios where you danced 6 shows and actually changed and fixed your hair and makeup in the parking lot! WELL that was it for me! The older dancers that were already regulars pulled me aside to fix my hair and makeup, and that completely changed me. I realized then and there, at a young age, that the power of makeup was amazing. It could make someone's life change, make you feel like a million dollars. From 1974 to 1979, I learned how to change my looks on TV.

How did you get your start as a celebrity Makeup Artist?

My start as a celebrity Makeup Artist is so funny. I went to a very famous Makeup and FX School. I worked for free to learn my craft and how other jobs on the set worked. A friend of the family said he knew of a job (of course it was for free) that was going to Oregon and he could recommend me. I was so excited. I got the job, but had to pay my own way, stay at a stranger's home, buy my own food etc. you get the picture. Months later, I received a call for a reshoot (there was such a continuity need that I felt it would be unprofessional if I did not do it), so I went back. We shot at a studio where I met the head of programming at the time for ABC. He really like my work and asked me if I would do this show for him that stared a huge celebrity at the time - Pat Boone! He sang and stared in many movies, and I was so nervous. He and his wife Shirley hosted a morning cooking show that was way before their time. Every big celebrity at that time was a guest and I was the makeup artist! It gave me my start. After that, I interviewed with an amazing man for the Head of Makeup job on a series, he called the executive from the Pat Boone show for a reference, and so on, and so on, and then it just began to roller ball. 0ver 40 years later I'm still In the game!

How did you first hear about Woosh?
I saw Woosh on Instagram and thought 'this is brilliant' and I reached out .

In your opinion, what makes Woosh special/differentiates Woosh from some of the other makeup brands you use?

I love how different Woosh is with the all-in-one Fold Out Face - the quality products have such a fabulous color payoff. The book not only has creme makeup for correction ability, but powder products for eyes and blush. If you are a good artist, you can mix your colors to do almost everything. Something else that makes Woosh so amazing is that it comes in shades for so many different skin tones. This is such a fantastic choice that the brand made. I love it so much.

Can you share a funny behind-the-scenes moment on the set of America's Got Talent?

I have worked on AGT for so many seasons and have seen a lot of funny things. I think one of the funniest was when Heidi Klum and Howie Mandel were judging an act with a guy who would swallow just about anything, including whole eggs. After the act, Heidi crushed an egg on Howie's head and we only had a few minutes to clean him up. He said "I don't care, I want to judge!" and went back out with raw egg on his head and clothes. 

Have you ever had a moment when you were starstruck?

Over the years, I have been starstruck a few times. I was the head of makeup on a show with so many musicians and singers, and Carol King was going to do the finale. I have always loved her music, but I was told she was doing her own makeup. I was very disappointed, but that happens in the industry. Then, before the show, I see these eyes peek around the corner watching my work, and then ask me if i would please do her makeup. It was her! I was so unprepared as I thought she wasn't coming into the makeup room at all. I pulled it off and was so excited to do her makeup. I could have used a Woosh Fold Out Face then!

What advice would you give to people who want to become makeup artists?

I would advise people who want to go after the dream of becoming a makeup artist to follow your heart and work hard even if it means no money at first. Also, don't become snobby because there is always someone with more talent, but it is how you play the game with others! Personality is important! I believe you are an artist by 33 1/3 percent, a scientist by 33 1/3 percent and a phycologist by 33 1/3 percent.  Without all of these things, you can't be the best artist or grow. Your clients need to talk and you need to be able to talk back appropriately. Woosh helps so much with the Fold Out Face palette. I have found myself in a few recent situations on set that I had to work out of a set bag, and without my Woosh brushes, glosses, and palettes, I would have been lost. I was able to pull 2 of them out and create magic.
Need a last-minute makeup look for the Barbie movie? If you have blush, you already have what you need! Yep, the blush that you normally put on the apples of your cheeks also works wonders when us...
Read more