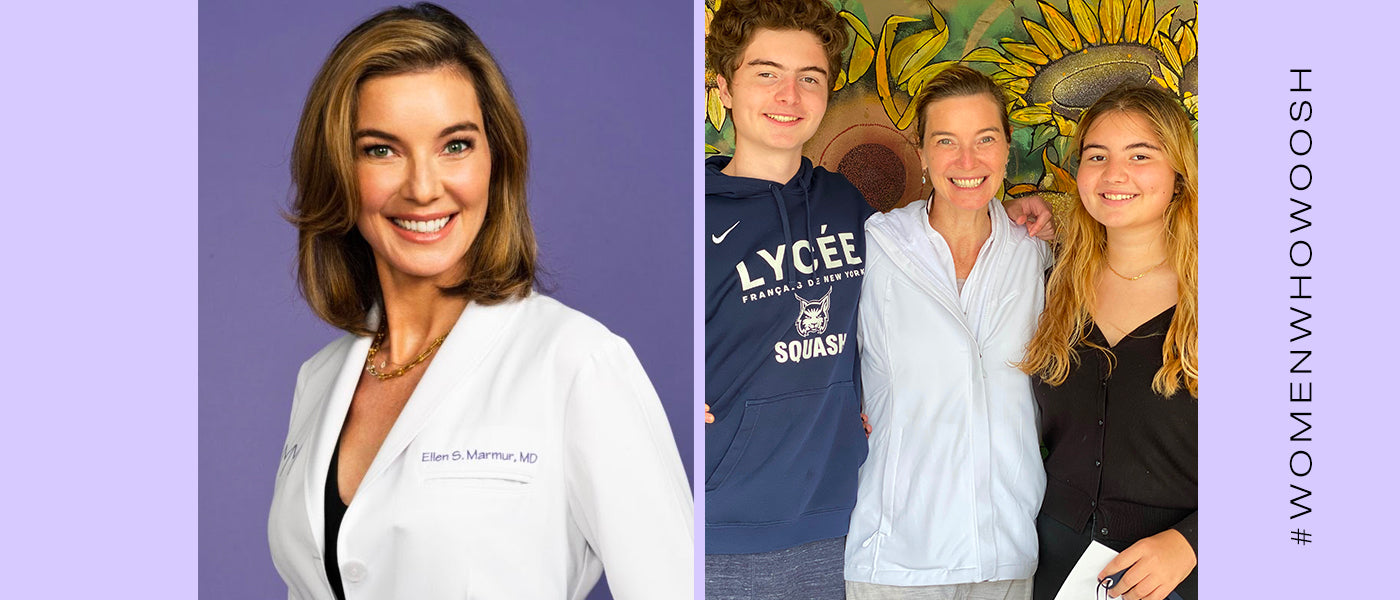 #WomenWhoWoosh: Dr. Ellen Marmur
She's a dermatologist, the founder of a skincare line, a mom, and a very cool boss. There isn't anyone else in NYC that we want to talk to about skincare and we're thrilled to feature Dr. Ellen Marmur as this month's woman who Wooshes! 
Let's start with, what does a normal day look like for Dr. Ellen Marmur?
Organized chaos is my norm. With a family, a busy practice, a busy spouse, and probably too many goals, I try to accomplish a lot every day. Exercise has to be at 6am or else it won't happen until the weekend. I make dinner almost every night. I work from 8-5:30pm which is like a series of reunions with patients all day long. And I confess I'm usually asleep by 9pm. Although, I haven't had any wine or desserts for 3 weeks so far and voila I can stay up until 10pm again!
You have a really strong (and fun & informative!) presence on social media, what role does Instagram play in building and maintaining both of your brands? Do you like using social media more personally or for your businesses?
For me, social media is a casual way to share information spontaneously. Our team has so much energy and when we are doing an interesting procedure we just ask the patient if it's okay to video for instagram; the majority say, "sure!", sign their consent, and we carry on as we were. It's so easy. Many new patients come to us from searching social media and feeling like they already know us. This is the best way to start most medical consultations--more friendly, more trusting, more relaxed. We have three handles on Instagram and Facebook and we just started a little tik tok. @MarmurMedical is filmed in the office mainly to show procedures and to demystify some misconceptions in dermatology such as the difference between acne and rosacea. @dr_ellen_marmur is more personal, mixed with medical information with my cardiologist husband Dr. Jonathan Marmur especially during COVID. @mmskincaregenius is our MMSkincare product line brand presence that is very beautiful and teaches people more about the truth in skincare. I love our presence on social media because it is 100% authentic. 
It seems like you have great relationships with all of the people who work with you in your Manhattan office, how do you navigate the road of being both a boss and a friend?
I love, respect, and adore my team because I trust their professionalism. We can dance and be ridiculous, but when it comes to work, we are laser focused on each patient's well-being. COVID actually brought our team closer together. People's strength and creativity came out in full force. It was awesome and I am so grateful. But, I run my office like a general--there is a policy and a protocol for everything. In medicine, repetition and order lead to safety and accuracy. So even if it looks so easy, there is a lot of experience and expertise that went into our protocols. 
What inspired you to start MMSkincare? 
I started MMSkincare because there was nothing like it! I've always been intrigued by the question, "How does our skin respond to the different kinds of light around us?" No other organ of the human body is exposed to the environment and different stimuli as our skin. How can we harness the skin's millions of photoreceptors to improve it? As Chief of Dermatologic Surgery at a big hospital in NYC, I conducted a powerful study comparing drugstore and luxury brands of skincare on real women and compared their skin with epigenetic markers and photographs. Proving that active ingredients can work on the skin was just the first step. Pulling from one-on-one cosmetic consultations I'd had with thousands of patients about their skincare was step #2. Putting it all together with the science of laser and light therapy technology was step #3. Making it all come to life is one of my best adventures.  
What's your favorite MMSkincare product?
I love my MMSkincare Revive Serum. It contains a core essence of peptides to assist new collagen and elastin formation as well as Wild Indigo which reduces all types of stress and fatigue (including pollution) in the skin by reducing cortisol production and boosting beta-endorphins for rapid improvement of skin radiance and health. In addition, it contains Acetyl Hexapeptide-8: reduces wrinkles and expression lines by safely inhibiting the release of neurotransmitters that control muscle contractions and extends the benefits of anti-wrinkle cosmetic procedures such as Botox. My skin is sensitive to chemicals and gets red easily, so this soothing, hydrating formula is really a game changer for me. 
What has been the biggest challenge you've faced in your career?
Wow, great question! I had my own form of Me Too in the very male dominant world of medicine where meritocracy should, but doesn't always, supersede the politics and power of the hospital work environment. My response was to leave academic medicine and start a private practice where I've been devoted to giving women physicians, PAs, technicians, managers, medical assistants, and administrators a chance to get ahead in their careers and spread their wings in a supportive and challenging space. 
Who is a woman that inspires you?
My mother and her generation of women inspire me. They enabled us to be educated to the highest levels and they applauded us as we made choices to have careers and families. My mother and her generation encouraged us to be financially independent and yet to devote time to our partners, colleagues, and friends. I feel they allowed us to inspire ourselves, without the limitations placed on past generations. Also, I'm in awe of Emma Raducanu! 
What advice would you give to someone like you who already has a (more than!) full time job but who wants to follow a passion and start a new business too?
My advice to everyone is to follow your joy. Not like a joyride but like your most real intuition that you love what you are doing. When you feel alive, creative, excited, and present in the moment, that is when you know you are on the right path. Everyone has the ability to work full time, raise a family, and to start a business if they love what they are doing. The energy feeds back to you. 
We have to ask, what is your favorite Woosh Beauty product and why?
I love the Fold Out Face and Essential brushes. If I had to pick one thing out of the kit it would be the highlighter. I use it on my cheek bones, forehead, and cupid's bow. But I am on my third kit--having used it every single day for 3 years, mixing and blending the colors for everything. The blush is my lip tint. The eyeshadow is my brow liner. The contouring is amazing. And the brushes that come with it are so ergonomic they almost show you how to apply the makeup!
Ok, and one more time for those in the back, how important is sunscreen? ;)
Sasha Suncare is what my daughter Sasha named her line for teens to change the worldview on sun protection. Sasha Suncare blends coconut and cucumber with the minerals and other key ingredients for sunscreen. Our skin degrades with the heat from UV rays. Having just cut off the back of someone's ear today while doing Mohs surgery, I can tell you firsthand that sun protection is the easiest, most affordable, healthy habit you should form early in your life. Teenagers know this because they don't want wrinkles or to suffer from surgery. So adults, let's get with the program and recommit to sunscreen!