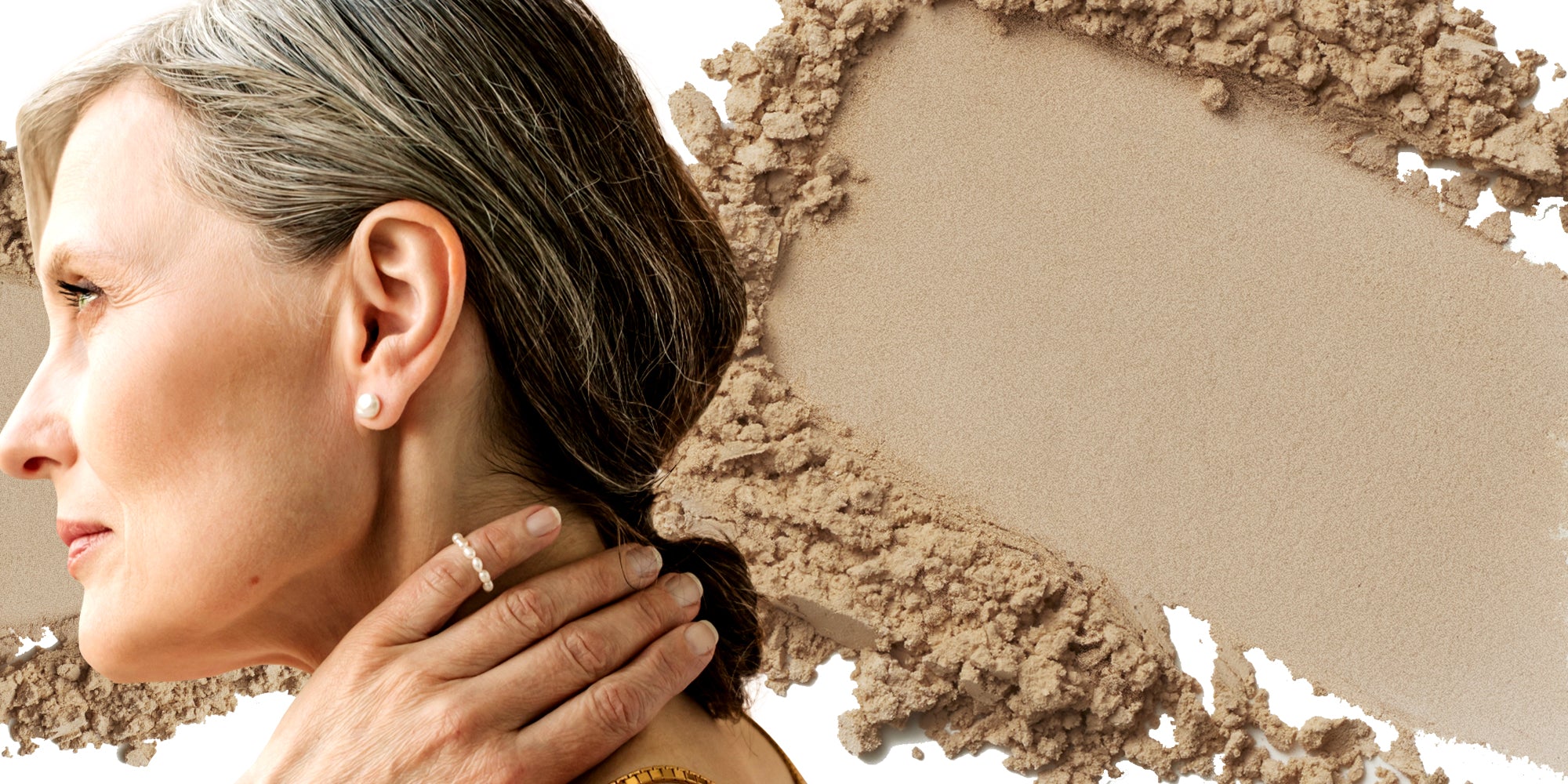 Foundation Powders - A Big Win For Mature Skin
Struggling to find a great foundation that offers natural coverage for your mature skin? Then our incredible Foundation Powders could be just what you're looking for.
Your skin goes through a ton of changes as it matures. From dark spots and the inevitable lines and wrinkles to dry patches and annoying pores, at some point, your skin just is not what it used to be. But let's be clear about one thing: aging is OK.
Scratch that, aging is something to be proud of! All those life experiences you have under your belt? What a privilege! Here at Woosh, we believe skin should be celebrated at every age. It should never be covered up with overly heavy makeup and quiet apologies.
One of the trickiest makeup formulations to nail as your skin matures, however, is foundation. In your earlier years you might have gotten away with a tinted moisturizer or no foundation at all – lucky you! But when you hit your 40s/50s, foundation becomes a much bigger deal for blurring lines, balancing an uneven skin tone and softening blemishes. Traditionally, the go-to for mature skin has always been liquid foundation because of the hydrating boost it offers. But did you know, our Foundation Powders also contain skin-softening agents that not only amp up hydration but work hard to create a more even, natural-looking canvas than their inferior liquid cousins?
Not only that, but our formulations are extremely lightweight and add just the right amount of coverage and radiance to really get your skin's glow on. Intrigued? Then here are four great reasons why our Foundation Powders are the best/only choice for mature skin…
Skin Hydration Is The Future
Some powder foundations are all about drying and mattifying the skin with oil-absorbing ingredients. Which is fine if you're young. But to be honest, most people don't want their skin to look completely matte and, well, a tad flat. And if you're a little bit older and losing the inherent glow that comes with younger skin? No way are you on board with super matte skin which emphasizes less-than-perfect texture and settles into creases. The good news is our mineral powder formulations deliver a hydrating finish that's ideal for skin of any age. How do we manage such makeup sorcery? By powering our powders with loving ingredients like stearic acid, tocopherol and ethylhexylglycerin. Yeah, we know these sound kinda scary, but tocopherol is basically vitamin E and stearic acid comes from things like shea butter and coconut oil. They may have fancy names but, trust us, these ingredients are clean, perfectly safe and offer incredibly hydrating and softening benefits. Everything mature skin needs.
Our Fine Powders Create An Even Finer Finish
You know what they say… third time's a charm. Well, this was our exact motto when we created our powder formulations which were milled not once, not twice, but three times. Triple milling creates the finest, smoothest, silkiest texture possible. And the finer the powder, the more easy and flexible it is to apply (it's just science!). We wanted our Foundation Powders to move with your skin not against it. And we know we crushed it.
Glowing Skin Is Back On The Table
Mature skin often lacks the vibrancy of younger skin because as it ages sebum production slows down, cellular turnover becomes sluggish and your barrier function loses some of its vital strength. Good skincare habits are key, for sure, but when you want a more immediate fix, makeup can be a real life-saver. And we are all over that…. Say hello to mica. Mica is a shimmering powder that's created by crushing silicate minerals from certain rocks. When applied to the skin, it helps brighten and smooth the surface by reflecting light away from the uppermost layers. Pretty clever, huh? What's more, not to harp on about it, but our ethically-sourced mica is triple-milled to create the finest, smoothest consistency and the most natural-looking results. We use it across all 12 foundation shades to give every skin, from young to old, the glow it deserves.
Vitamin C For The Win
If all this wasn't enough, our Foundation Powders also contain one of the most researched and highly regarded antioxidants in skincare, vitamin C – or ascorbyl palmitate if you want to get technical. Antioxidants are essential for mature skin because they help neutralize free radical damage. Don't know much about free radicals? Well, they're caused by things like UV radiation and environmental pollution and are seriously bad news for your skin, doing a real number on the essential proteins that keep it strong and healthy. Vitamin C is pretty much the queen of antioxidants which is why we use it to help keep your skin safe from harm and premature aging. It's no substitute for sunscreen, but still, every little helps. And you're welcome, btw.
5 Tips For Using Foundation Powder On Mature Skin
Convinced you need Foundation Powder in your life? Here's how best to work it…
1. Moisturized skin is essential, so apply yours to damp skin after cleansing to help lock in hydration.
2. Allow your moisturizer to rest for five minutes, then try our Pre-Face Primer to prep and condition your skin. This will create an even base to work on and a long-lasting, second-skin finish.
3. Conceal first. Trying to applying a creamy formula on top of powder is, well, almost impossible!
4. Use our Complexion Brush to smooth and blend your foundation powder over your face and neck in large circular motions.
5. For more coverage, continue blending for 30 seconds, but experiment with a lighter touch over any deep creases (around your nose, for example) to keep it natural-looking. 
Shop our foundation powders on their own, or in our Fold Out Complexion® and Fold Out Face® refillable palettes.