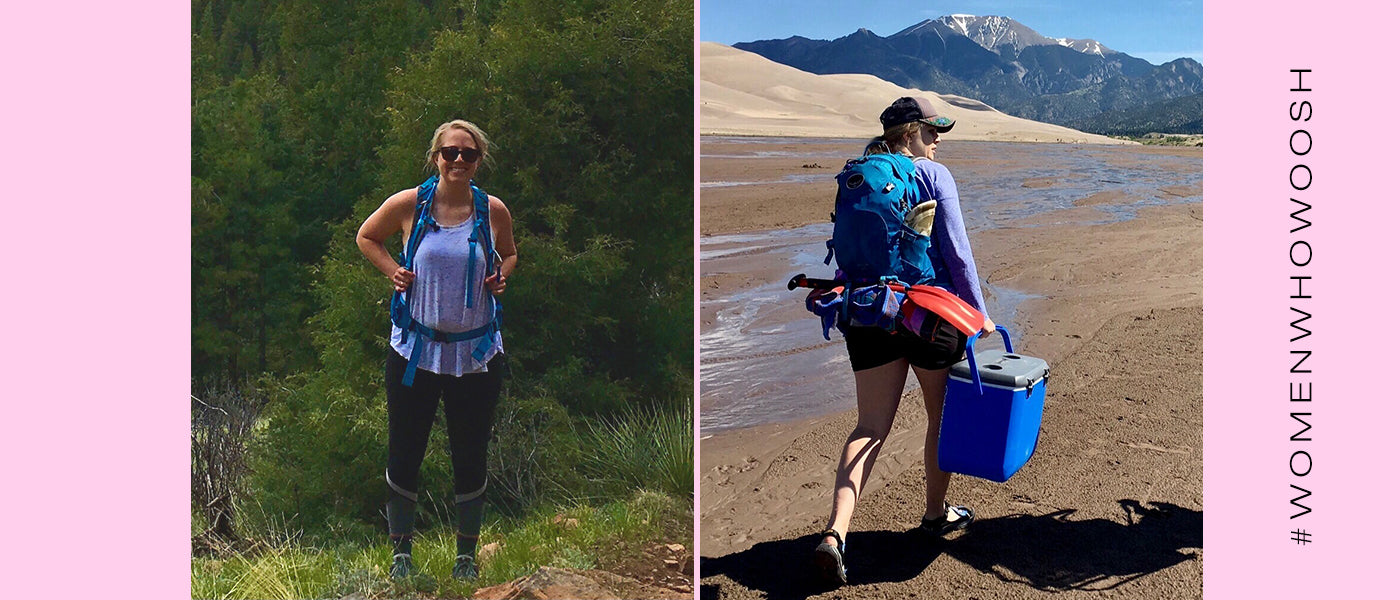 #Women Who Woosh: Dana McGlone
Beauty, brains, and the ability to (probably) survive in the wild! We're not saying that Dana McGlone is the perfect woman.... but we're also not saying she isn't. ;) All we know is that she's a woman who Wooshes and we're very proud to know her and feature her this month! Read on to learn more about this very cool meteorologist. 
 We don't know a lot of (ok, any) meteorologists. What a cool job! What made you decide to go into this field?
 Ha! Growing up in Colorado, you needed to know the weather to plan your day-to-day activities. It can be a bit wild, and it's not uncommon to have 40-50°F temperature swings in a day. So, knowing the weather and how it worked, was a useful skill. Then, in high school, I was lucky enough to take an "Intro to Meteorology" class from the coolest scientist. Being a science/math nerd, I was immediately sold. I ended up picking my college because of their summer storm chasing program. 
What's it like being a woman in the male-heavy science industry?
That's a loaded question because there are so many facets to it. I guess I'll just say, like many other women, I've had both good and bad experiences. I think the most difficult part, initially, was only having a handful of women in the field to look up to. Then, at the start of my career, I only had one or two chances to have a woman mentor. So, for me, it took a bit longer to build my network of women in science, but it's pretty great now because it expands beyond my field of meteorology. I do hope that it gets easier for every generation because it can be tough at times.
What was the biggest challenge you faced when deciding to start your own company? What's been the biggest reward so far?
 As always, there's a lot of uncertainty when you start your own business. So, you have to be in a financial and personal position to take the risk and have enough confidence in yourself knowing you'll be able to find your way. Having a business partner that compliments my skill set, and that I trust, has helped me offset that uncertainty. As far as the biggest reward, it has been freeing not having to answer to anyone but our clients. Our work can go that extra mile, and we can more efficiently execute projects. That has also allowed us to have more downtime, which helps foster creativity and creates a healthier work/life balance. 
Living in Denver, do you consider yourself outdoorsy? What are your favorite things to do outside?
 I think growing up in Colorado makes you inherently 'outdoorsy'. We went camping as a family to kick off every summer, and both my brother and I were on skis before we were 5. My favorite outdoor activity now is hiking on an uncrowded trail for a good portion of the day. A close second is fly fishing, even when I don't catch much. Both help me disconnect and reset to a more natural state. As far as city outdoor activities, you can talk to me into riding bikes to the brewery pretty much any day if it's sunny and warm. 
Where has been your favorite place to go hiking/camping? Tell us a little about it!  
I think one of my favorite hikes in Colorado is Aspen to Crested Butte at the height of wildflower season. The views and flowers are so unreal that it looks like a movie set. Then you get to turn around the next day and hike it back. Also, your inaugural 14er is always a special memory. As far as camping, my favorite spot in Colorado is at our family cabin that my great grandfather built. A close second is the Great Sand Dunes. Hiking the dunes at sunset is an absolute must do in this lifetime. 
What's the most difficult part about living "minimally" when you're hiking/camping? (e.g. is it the simple bathroom routine? Packing? Sleeping routine?) Walk us through some of it!
I think it takes some getting used to, so it's always nice to ease into the minimalist lifestyle with some car camping. You can bring lots of "luxury" items to make you more comfortable like an air mattress, board games, coolers packed with food/snacks and clean clothes. Backpacking gets more difficult because you don't want your pack to weigh more than 35-40 pounds. It's an investment to buy good gear, but with time,you'll be amazed to learn how little you actually need to still have a good time. I will say, no matter what, I always bring a good pillow. 
Could you give us your top 3 tips/pointers about having an outdoor hobby? What are 3 things we should know?
I think the best advice is to always be prepared with the correct gear, even if you're just going on a small hike. You won't always have cell phone service, so if you get yourself in a pickle, you need to be prepared. I would also say don't let others intimidate you if you want to try something new. There are plenty of people that will help show you the ropes, since we all started somewhere. Finally, no one says that you have to be good at a hobby to enjoy it. Whether it's 5 miles or 50 miles on a bike, if you're happy, you're doing it right.
 Lastly, because we know you love the Fold Out Face Palette-- tell us why? What's your favorite product within the 5 steps? 
I absolutely fell in love with the Fold Out Palette! Not only does it feel light on my skin, but it is also portable. It has been great for the dating scene because you can go from a minimal look to full glam. Perfect for when a ride to the brewery suddenly extends into an evening dinner. The blush and dark contour (that I look use as a bronzer!) are my favorite products because they can give you a quick sun-kissed look as you head out the door. And it fits easily in my backpack! ;)