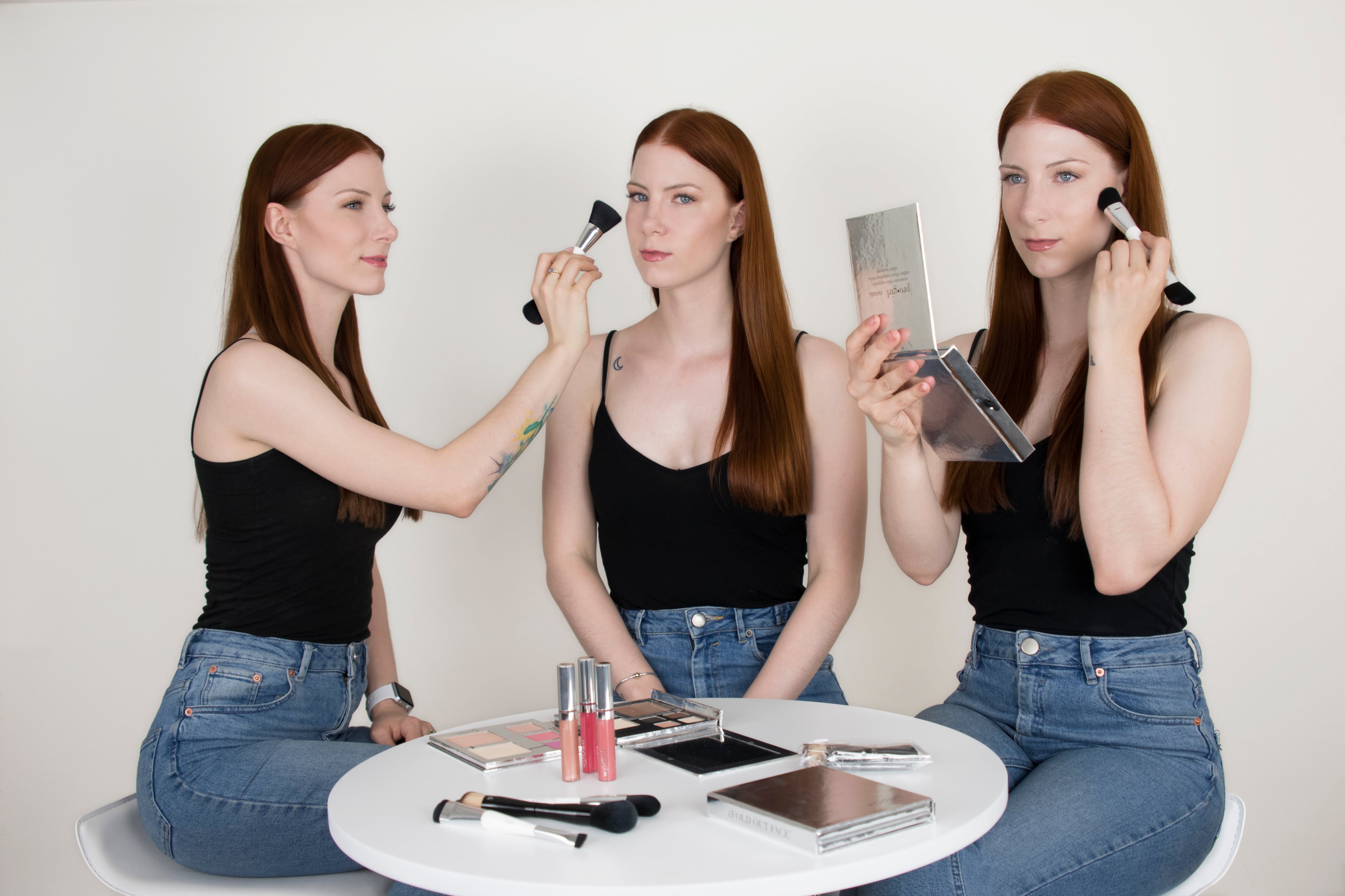 #WomenWhoWoosh: The Levesque Triplets
WB: Looks like Fashion Week had you guys busy in September!
LT: Yes! Fashion week this season was one of our best and busiest. We actually didn't attend any shows because we were busy walking in them! We almost always walk the catwalk together, which usually gets a great audience reaction. What a blast! Some of our most fun shows this season were Le Saint Beachwear, Sprayground and Adriana Sahar. Every brand had a totally different look and vibe but that's what makes it exciting for us.
WB: What's it like backstage at Fashion Week? Any good scoop?
LT: There were a lot of hair, makeup and wardrobe changes backstage. We had to be on top of the quick changes to be ready for each show. It was very hectic. At one point we each had 6 hairstylists trying to quickly give us 3 high ponytails. 6 hairstylists, EACH. Props to the team who made that happen. New York Fashion Week wouldn't exist without a little chaos backstage. Most of it is good chaos, although you can rest assured, we witnessed our share of drama behind the scenes. As a model it's all about figuring out who you want to work with and who you don't. We're all about positivity backstage and that always shows on the runway.
WB: You're often seen wearing Cover Girl Activewear. What role to you play within this company?
Cover Girl Active is a relatively new activewear brand that we've been partnering with as fashion influencers. We connected with them through our fashion contacts and fell in love with their clothes. Though of course we do wear other activewear brands, Cover Girl is our go-to. As models we often wear activewear on the daily and we need something stylish, comfortable and on trend. Not to mention they have a lot of pieces that come in three different colors, which we love! They definitely check off all of our boxes.
WB: You must get tons of attention as triplets! What's the most common thing people say to you or ask you?
LT: Absolutely! We get the stares and questions whether we like it or not – at work or on the subway – and it's been quite the ride. Even when we're wearing hats and sunglasses people still recognize that we're triplets, I don't know how. The first question we get asked is usually "who is the oldest?" which seems a silly question when you think about it considering we're two minutes apart! We don't really count that as an age difference. People will also ask us if we "share boyfriends" to which the obvious answer is, of course not! We don't let dating or relationships get in the way of each other. As cheesy as it sounds our bond is strong and our relationship with each other is too valuable to let anything get in the way. I hope everyone sees their siblings like that.
WB: Seems like everyone always talks about how you are alike, but we're interested in what makes you different and unique. 
LT: Great question! Andrea is a photographer part time and shoots almost all of our work. She also has the most tech-savvy mind of the three of us. The creative gene runs in the family though – Arianna is in the fashion industry and attended FIT for fashion design. She is what brought us together to work in this field in the first place. Athena has the best sense of humor of the three of us, and she's definitely the most outgoing and peppy. She also studied history in college!
WB: You always look great! We know that sometimes it's hard with fair skin and light eyes to find the products that suit you best, so we love that you discovered Woosh Beauty! What product(s) is your go-to, and why?
LT: The Woosh Fold Out Face makeup Palette has been a life saver for every casting, audition and even just for the every day. We love that we can throw it in our bag and have everything we need for touch ups on the go. For us, our makeup essentials are foundation, concealer and bronzer. Because we spend so much time in front of the camera, we've found with our coloring and face shape we look best with bronzer, highlighter, and a little bit of a neutral eyeshadow. This look can be dressed up or down and always leave us feeling our most confident. It's taken time (and the right products) to figure this out! A dark eyebrow, for example, doesn't work well with our fair skin and red hair. We've nixed that trend and focus on colors and looks that complement us!
WB: You all live together, what's that like?
LT: We absolutely argue, what sisters don't? We're very close which leads to a lot of support and on the other end the occasional spat. We definitely have each other's backs though in any situation. I would live with my sisters over roommates any day.
Because Arianna works in fashion and has a knack for design her bedroom is basically a walk-in closet. Our wardrobe has improved vastly since moving in together. We have had to make more of an effort to buy matching clothes over the past couple of years though because so many of the jobs we book in the entertainment industry (and even events we attend) ask us to match. We have slowly but surely been expanding our matching wardrobe.
WB: We love your hair! Looks like you were blonde at one point…what made you decide to go bolder?
LT: We have tried every shade of blonde out there and wanted to do something a little different. We've had tried strawberry blonde hair once before and took the plunge on a darker shade. We wanted a bit more of a model edge and though that this would be worth a try. The dark red has gotten a great response and works great with our fair skin. We are "50% Irish/British" according to a DNA test we took a few years back, which probably explains why the shade is so fitting. Absolutely everyone thinks it's natural, so we're sticking with it, I think! Not to mention we have garnered even more attention with the red. I think three redheads catch more attention than three blondes, which we hadn't even thought about when we first made the switch.
WB: Have you ever played an identity trick on a friend or family member? 
LT: In high school we would test anyone we had been dating for a few weeks just to be sure they could tell us apart. We would switch clothes and pretend to be each other. Only once did someone fail the test, and he didn't last long! We haven't done that lately, but we've been saying we would be up to pull some fun triplet pranks. Stay tuned, maybe something will come of it.
WB: Anything exciting planned for 2020? 
LT: 2019 has been a fantastic year for us and we're hoping to keep up momentum for 2020! We just filmed a small part in a huge feature film coming out October 2020, so keep your eyes out! We are looking forward to that premiere, though it feels so far away! We will certainly be looking to do more TV segments, fashion week and hopefully a few commercials if we can. Recently we've done a few dating segments for big names like Seventeen Magazine and a major TV network (to be released soon I think). It's very likely we'll do more reality TV, or something in that same vein. DJ Whookid recently had us on his show for Shade45 and we very much enjoyed doing radio, so we plan to come back on his show again! Every year we have some amazing opportunities pop up and I can't wait to see what's next!
WB: What's the best advice you were ever given? What advice would you give your 13-year-old selves?
LT: Our dad used to tell us that life is all about making connections. I didn't understand it until we moved to New York City and started on this amazing adventure in the industry we're in. We have met some amazing people and talented artists, all who have taught us a little but about ourselves and what we can do. Every time we connect and work with someone new, we grow a little bit. Even over just the past few years we've grown immensely in our work. Even apart from our careers, we've made some amazing friends and connecting with people has been essential in growing as a person.
What I didn't realize growing up was that things will never end up exactly the way you expect them too. Sometimes you have to overcome very difficult things. Other times you'll have amazing opportunities fall in your lap. You can make plans and have ideals for yourself and as long as you work hard and go for it, you will be happy even if things don't turn out the way you anticipated. In fact, it may just turn out better than you thought. Life is not as cut and dry as I thought it was at 13. I would let us know that we should get prepped for a wild, amazing ride! It's only getting started.