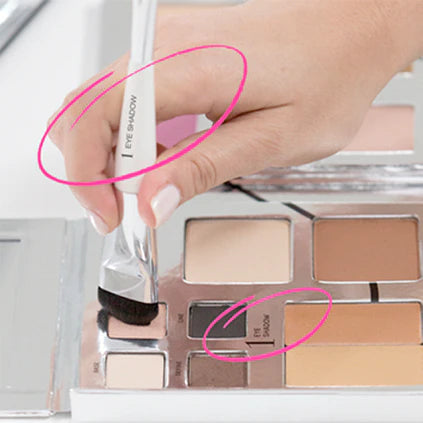 FEEL AMAZING ABOUT YOUR MAKEUP
6 out of 8 women admit they "don't really know" how to apply makeup. The 5 steps in the Fold Out Face are thoughtfully ordered, and the products are meticulously formulated to layer together beautifully, putting the power in your hands to feel like a pro.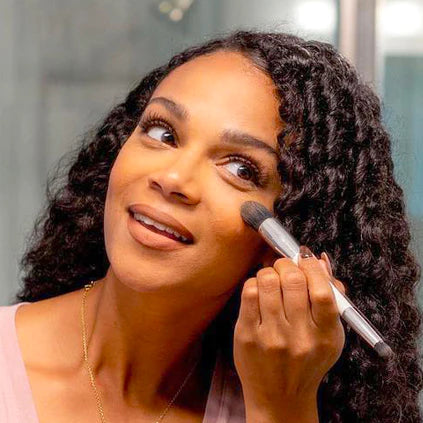 WORK SMARTER, NOT HARDER
With all of the high quality makeup you need for your whole face in 1 place, you'll cut your usual routine down to 5 minutes and look (and feel!) better than ever - we guarantee it.
THE SECRET IS...
The steps are uniquely ordered to end with magic blending powders that let you smooth out any mistakes or heavy-handedness. Plus, with the world's easiest instruction booklet, you'll get a gorgeous, airbrushed result every time.
Want time-saving makeup tips (plus 15% off!) sent straight to your inbox? Sign up for our emails below!
Yes! You can certainly spend longer creating more elaborate looks, but with everything you need (coverage & color) laid out before you, 5 minutes is all it takes to get your makeup on, and get out the door.
Nope! Our creamy concealer, paired with our buildable foundation powders offer most people all of the coverage they need!
No problem! We put all of the essentials in the palette, but you can pick & choose what you want to wear. And you're still saving time (& helping the planet) but purchasing 1 product instead of many.
HOW TO USE THE FOLD OUT FACE
So you have a Fold Out Face (or are thinking about getting one) and you want more information on how to apply it. Say no more! We created an easy,...
Read More